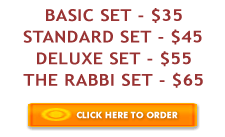 With UPS Shiping until days before succos, EsrogSets.com can process orders quickly and efficiently to ensure that every set arrives on time in excellent condition. Every esrog is carefully inspected prior to shipping. "Kashruth quality and reliability is our constant goal". All esrogim are certified kosher.
In addition to esrogim and lulavim, The EsrogSets.com supplies hadassim, arovos, hoshanos for pick up or delivery. The EsrogSets.com physical locaton is at 1011 Ave M, Brooklyn NY 11230 (between E 10th and Coney Island Ave).
Esrogim Set can also be ordered by phone at (646) 770-0267.